Factsheet
Developer
PotamWorks SAS
(Annecy, France)
Release date
December 2nd, 2021
Platforms
Meta Quest
Regular Price
USD 19.99
Website
smashdrums.com
Availability
Digital download
Language
English, Simplified Chinese, French, German, Italian, Japanese, Korean, Polish, Portuguese, Russian, Spanish
Press contact
contact@smashdrums.com
Developer website
www.potamworks.com
TL;DR
Smash Drums is an epic VR drumming game featuring awesome rock music & destruction.
Rock & roll is not dead: it has never been more alive!
Description
Get ready to ROCK and DRUM HARD in this unique VR rhythm game!
Embark on an epic drumming journey that will have you destroying multiple environments through chaos and flames! Be prepared to smash drums to 46 great rock songs, and more to come!
This is Smash Drums!
Rock & roll has never been more alive…
Features
Unique, intensity-based gameplay: tap the crystal drums and SMASH the hell out of the burning drums!
Play 46 head-banging rock songs in forward or 360° modes, with four difficulties and many modifiers;
Smash down 9 environments in single-player mode, including: a prison, a rock show… and the Moon!
Multiplayer arena (2-8 drummers): rule over the Co-op and Versus modes;
Live Ranking: watch yourself climb up the leaderboards as you play (global or friends);
Unlock tracks, skins & achievements;
90Hz (Quest 2)!
Official trailer
Screenshots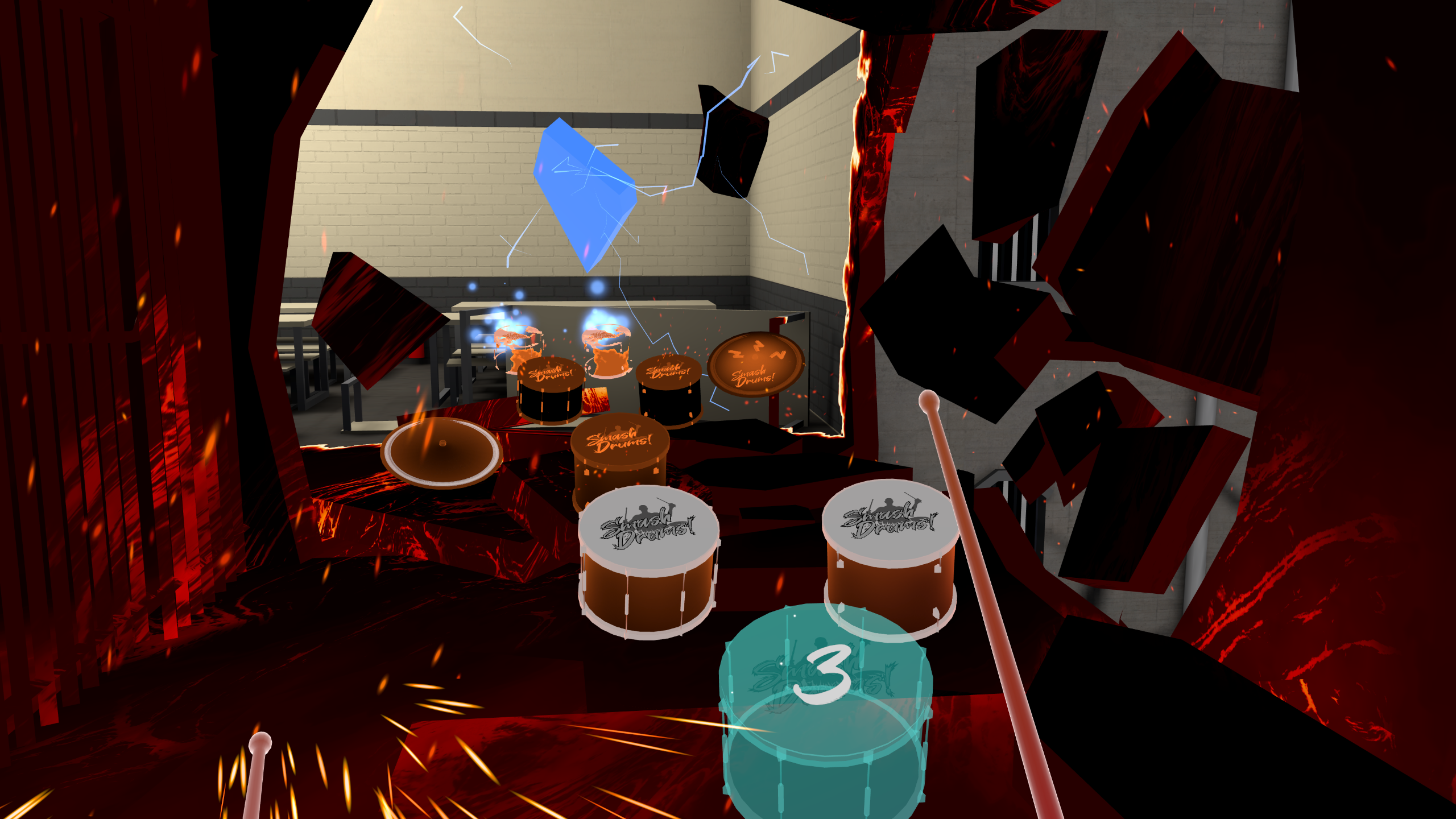 Logo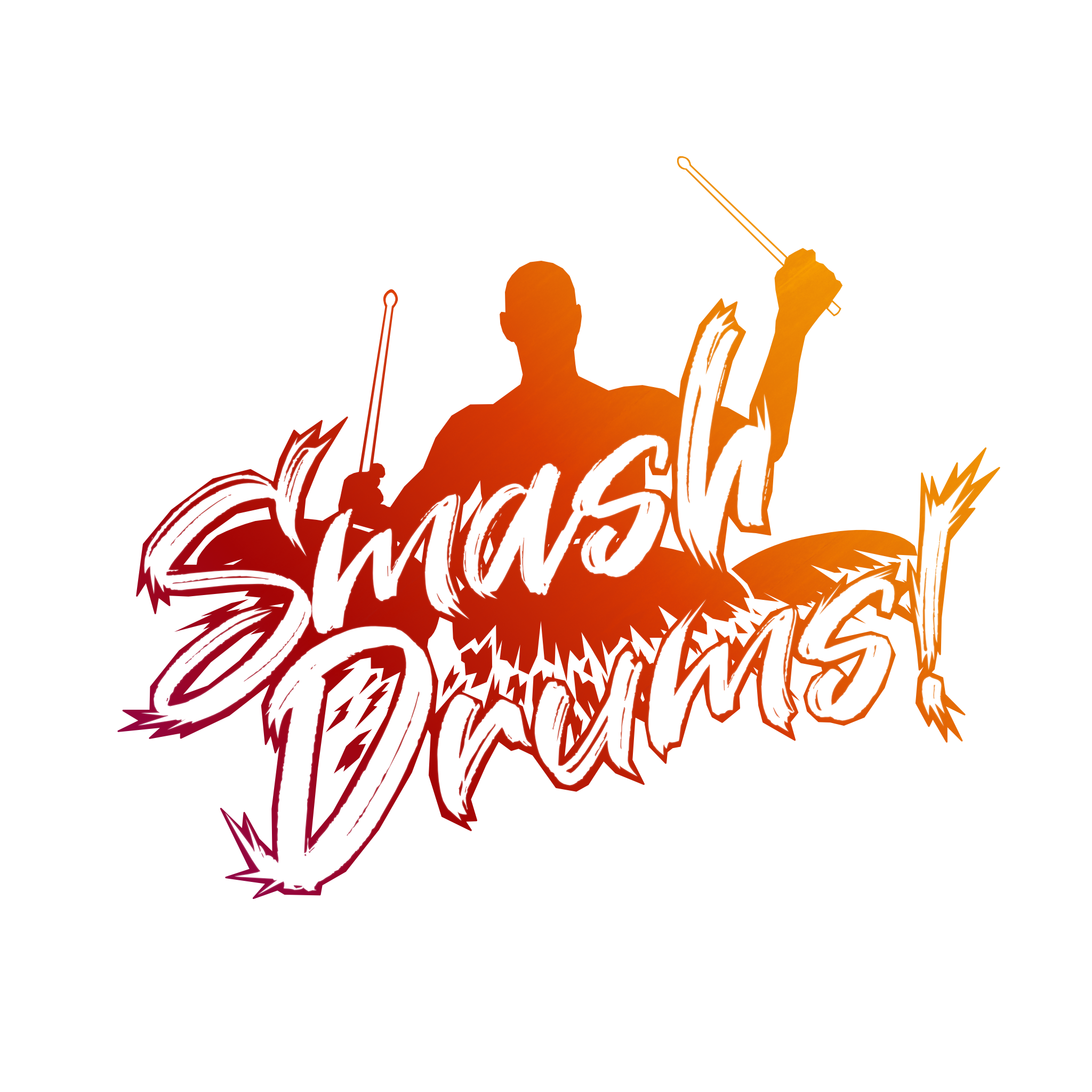 Selected articles & coverage
Awards
AIXR 2021 VR Game of the year finalist (link)
Articles
UploadVR, May 6th, 2022 – "Smash Drums Adds 5 New Songs In Volcano Update" (link)
UploadVR, December 2nd, 2021 – "Smash Drums Is Available Now On The Oculus Quest Store" (link)
PC Gamer, June 17th, 2021 – "The best VR game trailers we saw at E3" (link)
Forbes, June 17th, 2021, launch announcement (link)
Road To VR, May 13th, 2021, "Drum-based Rhythm Game 'Smash Drums' to Release on Quest Next Month" (link)
GMW3/VRFocus, May 13th, 2021 – "Smash Drums Hits Oculus Quest in June" (link)
Newsweek, April 10th, 2021 – "Oculus Quest 2 Games: 7 Hidden Gems to Play Today" (link)
UploadVR, April 5th, 2021 – "Smash Drums Demo Adding More Songs Soon (uploadvr.com)" (link)
VRScout, February 8th, 2021 – "Top 5 App Lab Games Available Now On Oculus Quest" (link)
UploadVR, August 2nd, 2020 – "Smash Drums! is a VR Drumming Game Coming to Quest and Rift in 2021" (link)
UploadVR, September 2nd, 2020 – "Smash Drums SideQuest demo teases Drumming VR Game" (link)
Réalité Virtuelle, August 3rd, 2020 – "Smash Drums met la batteries en VR sur le devant de la scène" (link) (French VR news site)
VRTrendMagazine 1st Issue, November 2020, 2 pages interview
​Others
About PotamWorks
PotamWorks SAS is a french video game studio dedicated to VR, created by Potam in 2020, based in Annecy, France.
Smash Drums is the studio's first game.